Guild has announced three additions to its popular Newark St Starfire range, including the Starfire I DC California Burst, Starfire III Dynasonic Dark Emerald and Starfire VI Special Kingswood Green.
The aforementioned Newark St. range of semi-hollow electric guitars is manufactured in Indonesia, and the Starfire variants provide the bulk of the line-up.
First up, the most attention-grabbing guitar is the new Starfire VI Special Kingswood Green.
This guitar seems to be bridging the gap between the firm's Starfire semi-hollows and the higher-end Manhattan builds, which are still made offshore, but offer a range of luxe appointments.
Described by Guild as "a visual stunner and the crème of the crop for Guild's Starfire platform", it comes equipped with a pair of DeArmond Dynasonic humbuckers and a host of aesthetic tweaks.
If you're unfamiliar with the Dynasonic, it stakes a claim to being the first pickup with adjustable pole-pieces and has a history dating back to the 1940s.
An Alnico V-based humbucker, the modern reproduction channels the tone and build of DeArmond's 1960s units, though it is voiced a little hotter as a consideration to contemporary playing styles.
Other, mainly aesthetic, flourishes on the Starfire VI Special spec include mother-of-pearl and abalone V block inlays, multi-ply body and headstock binding and bound f-holes and fingerboard. It also marks the arrival of a brand-new metallic finish in Kingswood Green, which we have to say looks pretty damn classy.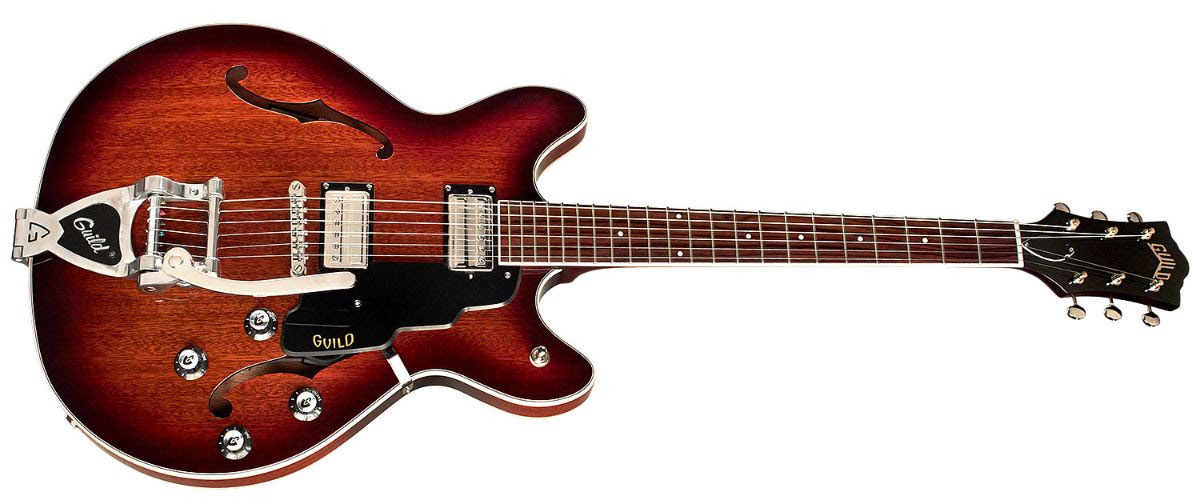 If you're a fan of Guild finishes, then the aforementioned Starfire I DC California Burst and Starfire III Dynasonic Dark Emerald are also worth a closer look.
The Starfire I DC brings the previously US acoustic-only California Burst finish to the firm's electric models for the first time, offering a compellingly rustic alternative to the existing Antique Burst.
Finally, the Starfire III Dynasonic reprises the Dark Emerald finish found on vintage 1960s models, which is reportedly "long coveted by collectors" and also throws in a set of the DeArmond Dynasonic humbuckers.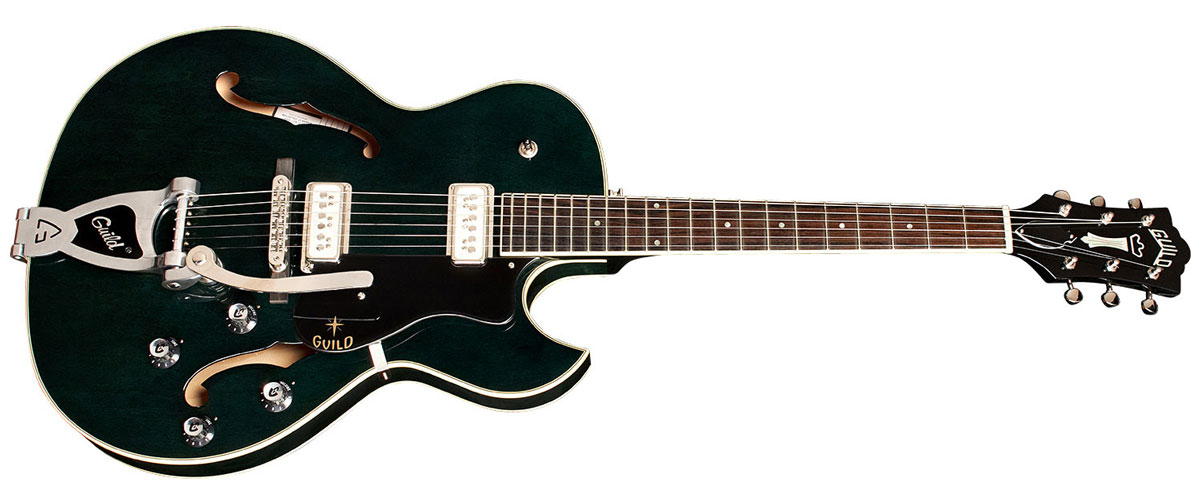 Street prices for the new models range from $699 for the Starfire I DC California Burst to $1,499 for the Starfire III Dynasonic Dark Emerald and $1,899 for the Starfire VI Special Kingswood Green.
In other Guild news, the firm made it fourth time lucky, as it finally announced the arrival of the long-awaited Guild Kim Thayil signature S-100 Polara.
For more information on all of the new Starfires, head to Guild Guitars.