Christmas is right around the corner, but we can bet you've still got a hefty amount of shopping to do. And if that special person in your life is a guitarist or bass player, we'd wager the stress is building around what to buy them as a present. 
We hear you – it always seems guitarists have all the gear already, and if they don't, you're not sure exactly what they'd like to receive.
But fear not, British amplification giant Laney is on hand with an instant destressing solution, as it's just released its digital 2022 holiday gift guide (opens in new tab), and it's full of tons of gift ideas for the guitarist or bassist in your life.
And you can rest assured: Laney is one of the most well-respected brands in guitar and bass amplification, so whatever you pick up as a gift is sure to go down well.
This handy gift guide spans 24 pages and is totally interactive; simply click a URL when you see a product of interest and you'll be taken straight to Laney's website for more information and/or to make your purchase. You can have a browse yourself, but below we've highlighted what we think are some of the best products, in case you are lost on where to begin.
If the guitarist in your life is in need of a new stompbox for their pedalboard, that's where Laney's lineup of Black Country Customs pedals comes in. Flip to pages four and five, and you'll find a selection of affordable pedals just waiting to enhance the tone of any guitar rig.
If you're looking for a higher-end stocking filler, these compact pedals – the Monolith distortion, Steelpark boost, Secret Path reverb, Spiral Array chorus and Tony Iommi of Black Sabbath's signature distortion box – are priced at $179, $179, $209, $209 and $199, respectively.
Or if you think they'd like a new amplifier, Laney's Cub-Super range of guitar amps on pages 16 and 17 will do the trick. Championed by Brazilian virtuoso Lari Basilio, the Cub-Super range comprises compact, tube-loaded, vintage-voiced amps, offering a boutique tone without the boutique price tag. 
As Laney says, "Hand-designed boutique aesthetics and dynamic, interactive tone are now available to everyone."
Features of Cub-Super amps include 12AX7 and EL84 tubes, onboard EQs, effects loops and more. In terms of availability, two combos amps are available – the Super10 and Super12, priced at $579 and $739, respectively – and the Supertop amp head, priced at $649, which can be paired with either the 1×12 Cub-112 or the 2×12 Cub-212, at $299 and $399, respectively.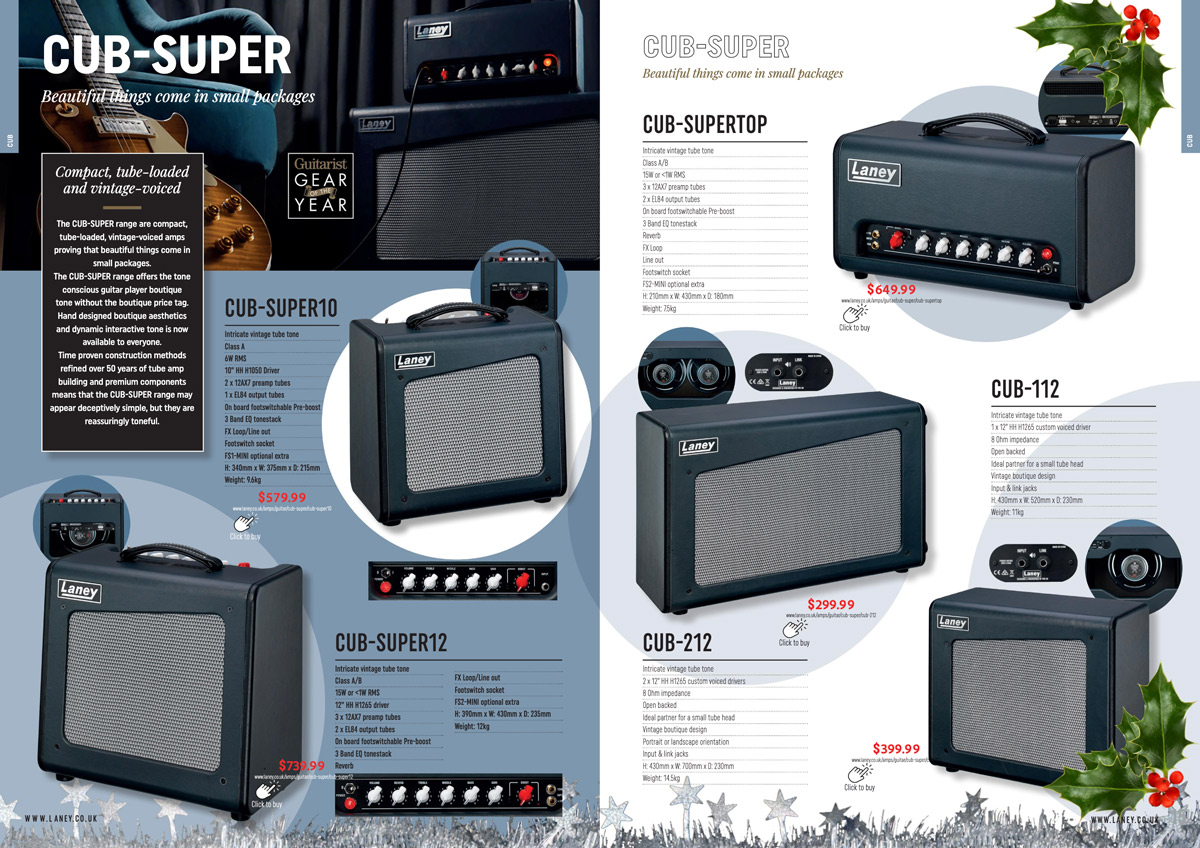 And if that special someone is a beginner guitarist and is looking to build themselves a killer practice rig that'll last them years to come, you won't go far wrong with the Ministack range of guitar amps.
These compact practice amps offer the awesome Laney tone at a super-accessible price point. Starting at just $159 for the Ministack-Lion, and with the most spec'd-out model in the range, the Ministack B-Iron, retailing at $179, the line comprises four models. See pages 10 and 11 for more info.
Or for a safe bet for any music lover, you won't go wrong with Laney's F67 Portable Bluetooth Speakers on page 23. Bluetooth speakers are a solid option – their portability means you take them anywhere – be it to a party or the beach – and set up your own mini music festival wherever you like. 
The F67 Portable Bluetooth Speaker comes in two sleek colorways – the navy-tinged Lionheart or the black Supergroup – and features a fast-charging lithium-ion battery that boasts 20-plus hours of battery life when fully charged, and is loaded with a 4" driver and a pair of high-quality 0.8" dome tweeters for pristine wide-stereo audio. 
It's ultra-compact, too, measuring 160mm x 265mm x 155mm and weighing in at only 3.1kg. For just $339, you can get the F67, one of the best Bluetooth speakers available on the market today.
And of course, Laney has certainly not forgotten about the bass players. Turn to pages 20 and 21 and you'll find a wealth of stocking filler inspo for the bassist in your life. 
Any of the trio of Black Country Customs bass pedals on page 20 – the BCC-TCF compressor, BCC-T85 interval pedal, and BCC-Blackheath distortion, priced at $179, $209 and $179, respectively – are just waiting to revolutionize the tone of any bass player's rig.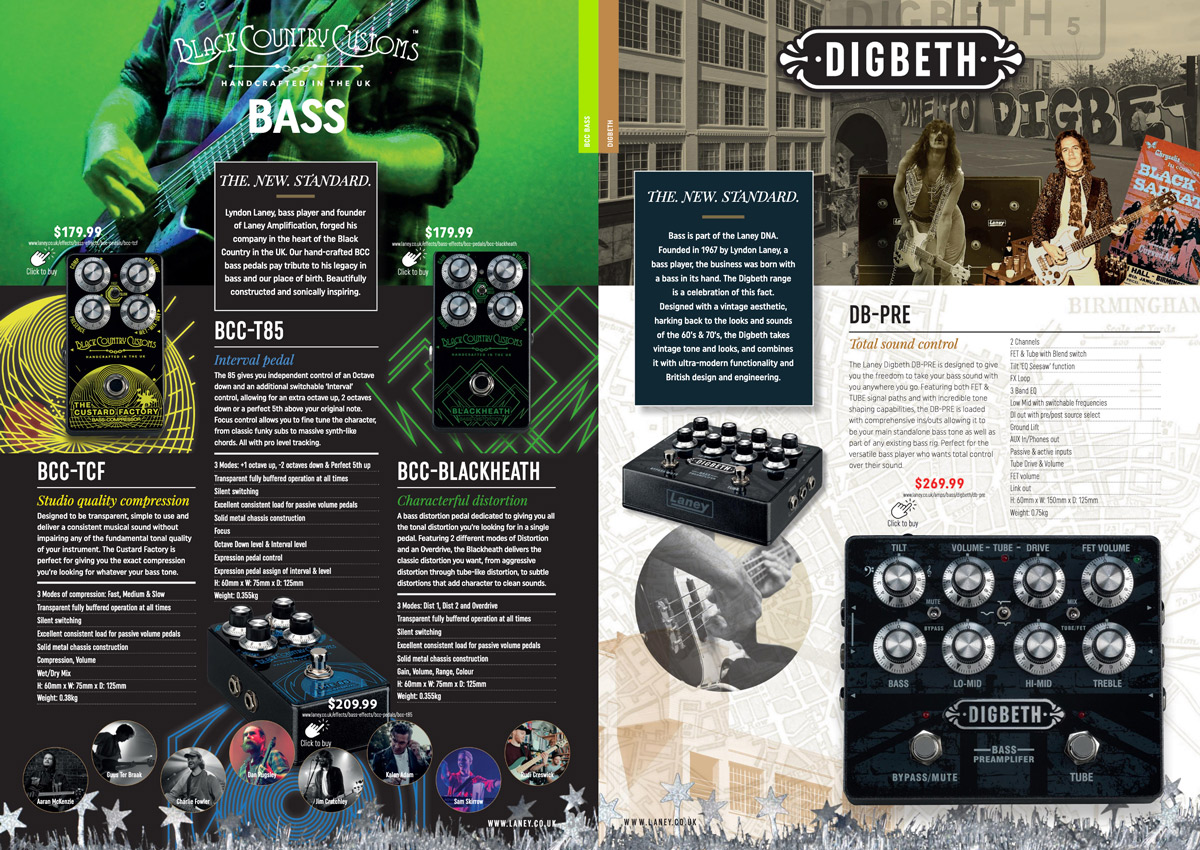 Check out Laney's 2022 holiday gift guide (opens in new tab) to have a deep dive yourself, and if a product catches your eye, click on the URL link beside to to be taken to Laney's website (opens in new tab). Happy gift hunting!