Get the stories behind some of the most iconic guitars in rock 'n' roll.
It seems that every guitarists' beloved guitar has a story behind it, so today, we're going to dive into the history behind some of the most interesting, unique, and iconic guitars ever made.
Jimi Hendrix's "Monterey" Stratocaster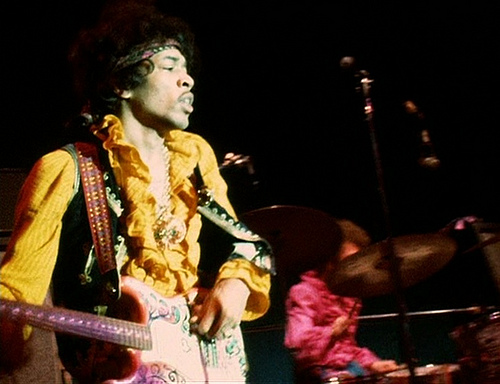 Maybe you've seen old footage, or maybe you were actually there at the Monterey Pop Festival back in 1967, but either way, you know EXACTLY which guitar we're talking about. Yes, the unique hand-painted guitar that Hendrix famously doused it in lighter fluid and set on fire during one of the most iconic performances in the history of rock 'n' roll. This Stratocaster was truly one-of-a-kind, both before and after it was sacrificed. Before the guitar went up in flames, it showcased a stunning paintjob with a white over red finish along with striking psychedelic graphics that graced the pickguard, upper cutaway, and around the output jack.
Fender even offered a commemorative 50th Anniversary Monterey Strat for a limited time to give modern players a chance to get their hands on a significant piece of rock 'n' roll history. Still want to get your hands on an axe that oozes with Hendrix vibe? Check out the Fender Jimi Hendrix Stratocaster, which features Jimi's signature reverse headstock and reverse slanted bridge pickup.
Want to play like Jimi? Be sure to check out our blog post, How to play like Jimi Hendrix, for some tips on how you can hone your craft and bring out your inner Hendrix.
B.B. King's Gibson "Lucille"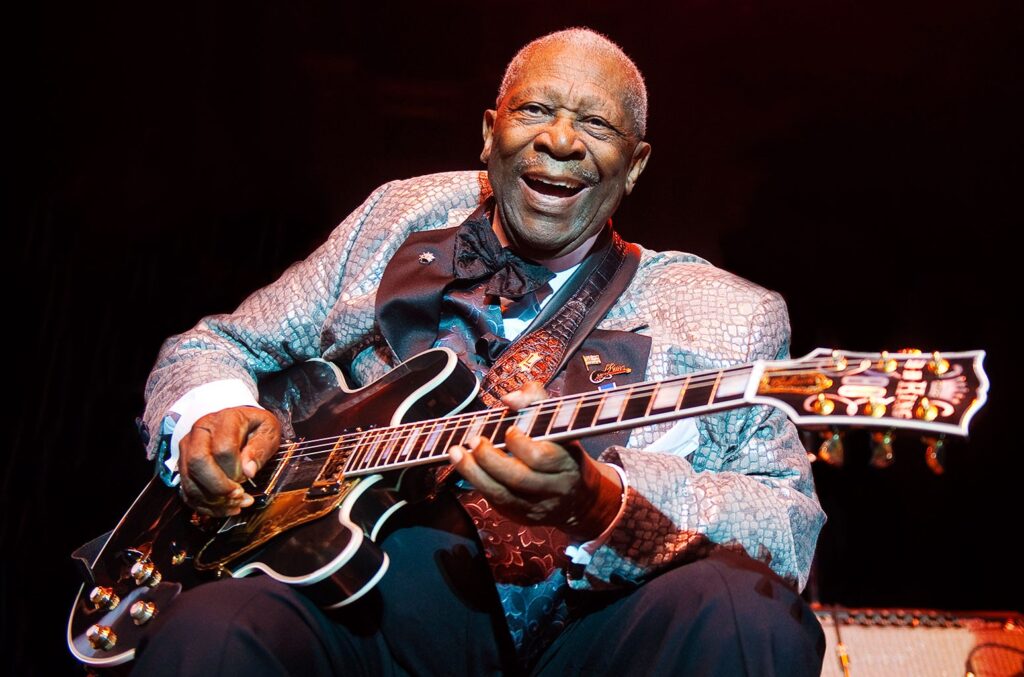 B.B. King's world-famous "Lucille" certainly has a very interesting backstory if there ever was one. Back in 1949, B.B. King performed in a nightclub in Arkansas, where they used a garbage pail filled with flammables to heat the venue in the middle of the dance floor. A fight broke out between two gentlemen, knocking over the pail and starting a fire. Along with everyone else, B.B. King headed quickly for the door, but realized he left his beloved guitar inside. He nearly killed himself going back in for his guitar. King later found out that the gentlemen were fighting over a woman named Lucille who worked at the club, so he dubbed his guitar Lucille "to remind [him] never to do a thing like that again."
There have been many Lucille guitars over the years, but the most famous iteration is the sleek, ebony-finished Gibson ES-355 with gold hardware, which has been re-created time and time again by Gibson and Epiphone. Looking to get the vibe and look of B.B. King's Lucille in an affordable package? Check out the Epiphone ES-335 PRO.
Zakk Wylde's "Bullseye" Gibson Les Paul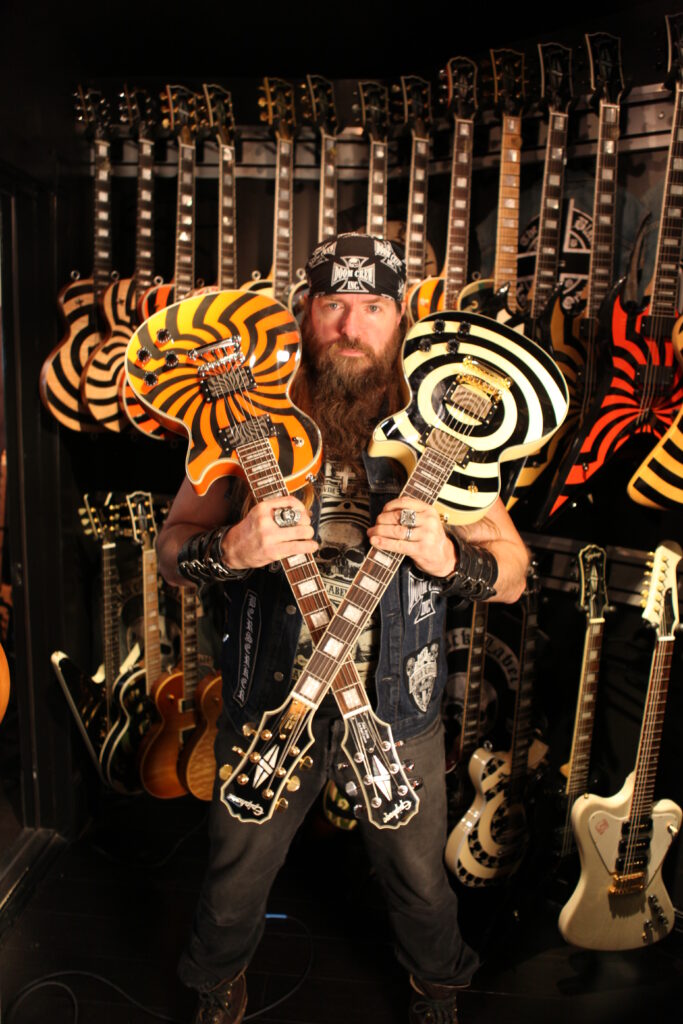 Widely recognized as Ozzy's lead guitarist and as the front man of Black Label Society, Zakk Wylde's Les Paul is definitely in a class of its own with its captivating "Bullseye" finish. The bullseye look has become the cornerstone of Wylde's brand and image, but the funny thing is, it wasn't actually meant to be a bullseye. The original intention was actually a swirl design reminiscent of the movie poster for Alfred Hitchcock's Vertigo, but the paintjob didn't come out as expected. Wylde said, "It was actually supposed to be a vertigo, like from the Hitchcock movie 'Vertigo.' That's what it was supposed to be, but then the buddy Max, he ended up painting the bullseye on it and I had a photoshoot that day and the rest is history." Who knew an accident would have such a lasting impact?
This axe's amazing looks are only matched by Zakk's heavy, hard-rocking tone! Want to know all the ingredients to that signature Wylde sound? Check out The secrets behind Zakk Wylde's guitar tone on Ozzy Osbourne's No More Tears.
Eddie Van Halen's "Frankenstrat" Guitar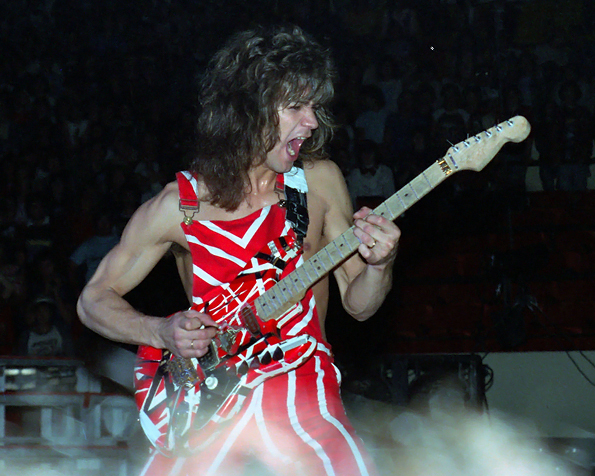 If you're an avid tone-seeker, you'll really relate to the story of Eddie Van Halen's Frankenstein guitar. Also referred to as his "Frankenstrat", an appropriate name for the axe put together by the legendary EVH, brought together everything he wanted in a guitar to conjure up the ultimate tone and look. He wanted to combine that thick, rich tones of a Gibson humbucker with the feel, look, and functionality of a Strat. It sports a Strat-style body and neck, with the body dressed in Eddie's signature striped finish. Equipped with a PAF humbucker in the bridge position and a single-coil in the neck, the guitar delivered a truly distinctive sound. He made a few modifications later on including adding a Floyd Rose tremolo that let him serve up those iconic dive bombs and killer tremolo tones that can be heard on some of Van Halen's most famous tracks.
This guitar's popularity eventually resulted in the launch of the EVH brand of guitars in more recent years, which is essentially a full brand of killer Eddie-approved guitars, amps, and accessories. Many of the guitars, amps, and accessories in the EVH brand lineup still sport that renowned striped finish made famous by his original Frankenstein guitar.
Looking to deliver that signature brown sound and classic look of Eddie's Frankenstrat? Check out the EVH Striped Series Frankie electric guitar.
Les Paul's Gibson Les Paul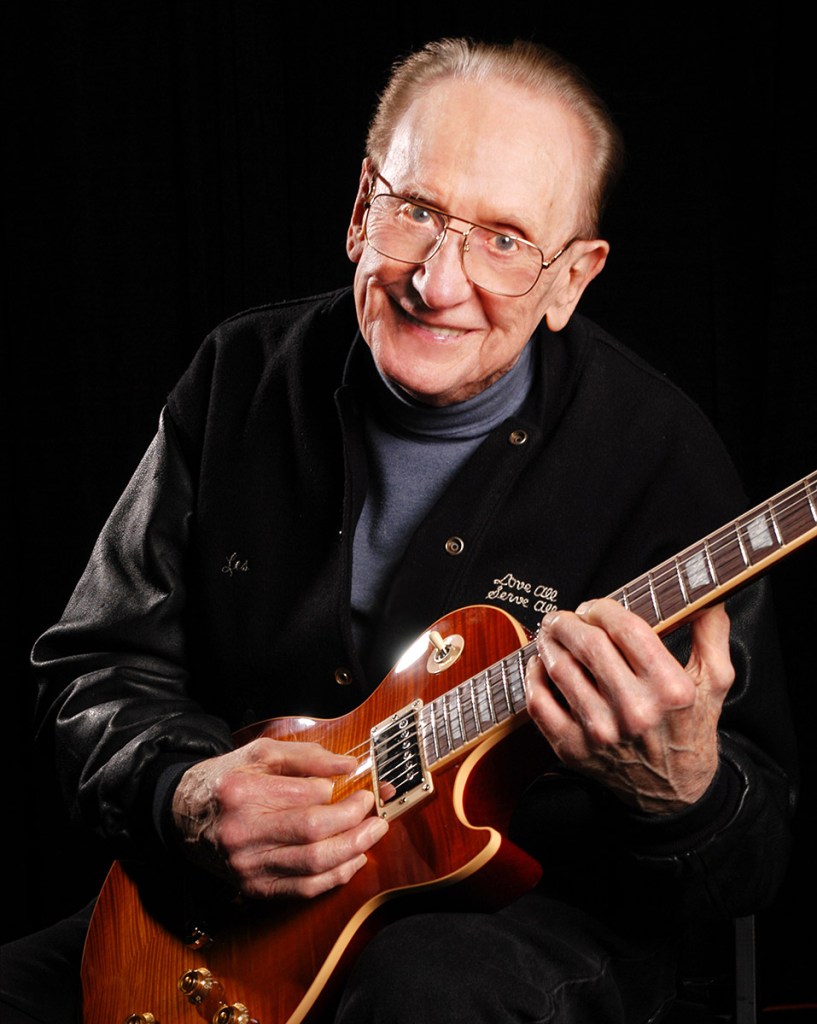 Jazz legend Les Paul was so much more than a musician. He was an inventor, and one of the pioneers behind the solid body electric guitar that we all know and love today. In order to try and minimize the body-resonant feedback that occurred when using a hollow body guitar, he invented his own incarnation of a solid body guitar famously known as The Log. He approached Gibson with the idea in the '40s, and in 1952, the Gibson Les Paul was born.
Easily the most iconic guitars signature in history, the Les Paul model is so much more than a signature model nowadays. The Les Paul is the foundation of the Gibson lineup, with countless variations released since the guitar's introduction in the early '50s. The Gibson Les Paul has been a true staple of rock 'n' roll for over six decades, and can be found in the hands of countless notable guitarists spanning nearly every single genre of music you can imagine.