Are you looking to start playing electric guitar? Whether it's something you've always wanted to do or it's a hobby you decided to pick up just last night, buying your first electric guitar can be both incredibly exciting and extremely overwhelming all at the same time. There are so many guitars on the market, so we're here to help make that process a little less daunting.
Here are some of the most important things to think about when buying your first electric guitar:
Comfort and Tone
If you've already started researching electric guitars, you can see there are A LOT of options out there. Comfort and playability are arguably the most important features to consider when purchasing your first guitar, and it makes complete sense. When your instrument isn't comfortable or your instrument is not easy to play, that will surely put a damper on your motivation for learning.
Tone is also key when choosing your first guitar. If your guitar doesn't have the right sound for the style of music you're trying to play, it may end up being just another fixture collecting dust in your home. Lending to comfort, playability, and tone, let's dive into some of the main features to look for when purchasing your first guitar.
Guitar Body Styles
Some of the most common body styles we see for electric guitars are single cutaway guitars (think Gibson Les Paul) and double cutaway guitars (think Fender Stratocaster). These body shapes are available from almost every single guitar manufacturer out there, are incredibly ergonomic. There are so many different body styles out there, including some irregular shapes like the Explorer and Flying V-type guitars, but we recommend starting off with one of the more standard single-cut and double-cut guitars.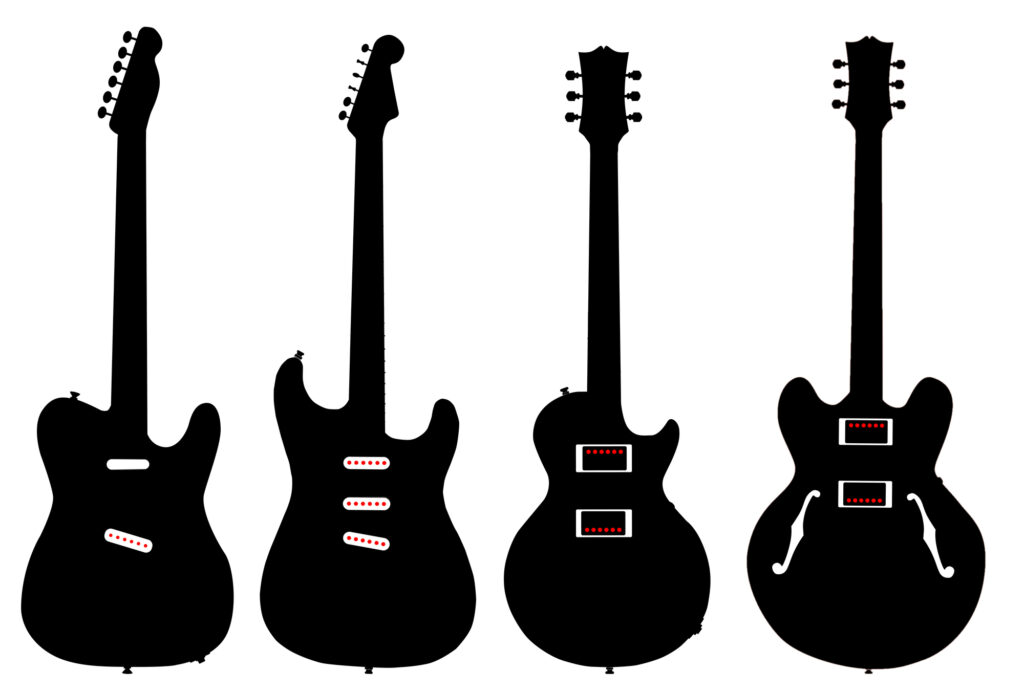 Pickups
The types of pickups your guitar is outfitted with will have the biggest impact on the sound it produces when you plug into an amp. The two main types of pickups you'll hear about are single-coil pickups and humbucking pickups. Sound wise, single-coil pickups tend to be a little more on the twangy side, making it a great choice for blues, country, R&B, funk, jazz and pop. Humbuckers tend to have a thicker, meatier sound with a nice growl, which is perfect for heavier genres like rock, metal, and punk. Don't be fooled though, if you have the right amp for the style you're looking to play, you can make single-coil pickups scream and make humbuckers sparkle.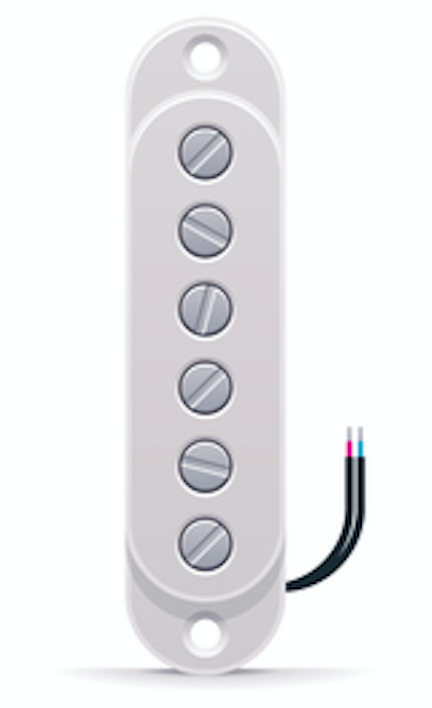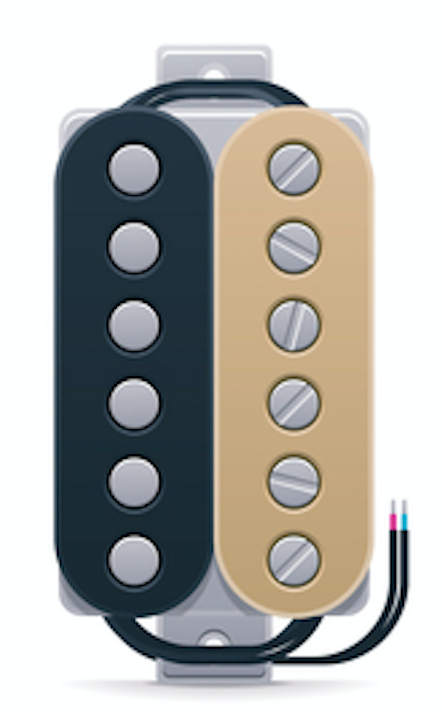 Considering Your Budget
The next thing you should consider when looking to buy an electric guitar would be knowing your budget. Knowing how much you want to spend will help you narrow down your options and find the best fit.
Looking for a cheap electric guitar just to get you started? It's easy to find an inexpensive guitar for under $100, but something important to keep in mind is that it's crucial to purchase an instrument of quality and not just a toy. If you don't have a decent guitar to learn on, you're more likely to give up on learning. We highly recommend starting with an entry-level model from reputable brands such as Squier by Fender, Epiphone, Ibanez, and ESP. Some of these guitar brands even offer guitar packages that include all of the necessary accessories you would need to get started. Some of these even come with guitar amplifiers, too, which is something you'll definitely need! If you're looking for a solid electric guitar under $500, be sure to check out this post, Best electric guitars under $500: 10 epic electrics for smaller budgets.
Beginner Guitar Amplifiers
Now that you've narrowed down the finalists for your first axe, you now need to consider amplifiers (unless you've decided to go with one of those guitar packages we mentioned earlier). Having an electric guitar without an amp is like having a bowl of soup with no spoon. You can technically make it work on its own, but it's certainly not ideal. Without an amp, you won't be able to really hear the guitar, which can hinder your ability to learn and master the instrument. Just like guitars, there are countless amps on the market that can satisfy a wide range of budgets and needs. For your first amp, we highly suggest you start off with a small, but high-quality practice amp like the Blackstar FLY 3 Bluetooth amp, the BOSS Katana 50 MKII, or the Fender Mustang LT50, or the Marshall CODE 25. Want to learn more about these and other great starter guitar amps? Check out our list of the best beginner guitar amps for 2020.
Must-Have Beginner Guitar Accessories
So, you have your guitar and your amp, but there are several essential guitar accessories that you don't want to leave the music store without purchasing.
Extra Guitar Strings
Probably the most important accessory you don't want to leave the store without buying are extra sets of guitar strings. Typically most guitars come equipped from the factory with .009-.042 or .010-.046 gauge strings on them. Most manufacturers will list the gauge of strings used for the guitar (and sometimes even the brand of strings) in the literature when you purchase the guitar. We recommend purchasing at least 3 extra sets of strings, and definitely suggest purchasing a handful of single strings since the high E string is more prone to breaking (.009 or .010 gauge depending on what your guitar uses).
D'Addario makes a great set of strings, and they offer 3 packs in all of the standard gauges including the gauges I mentioned above with the EXL120 Super Light (.009-.042) and EXL110 Regular Light (.010-.046). Another well-known, widely-used string manufacturer is Ernie Ball, and the company also offers 3 packs in these same gauges with the Super Slinky 3-pack and the Regular Slinky 3-pack.
For extra protection, great tone, and longer string lifespan, we recommend going with Elixir strings. One of our personal favorites is the Elixir Polyweb Coated Strings .010-.046, and they're available in other gauges, too!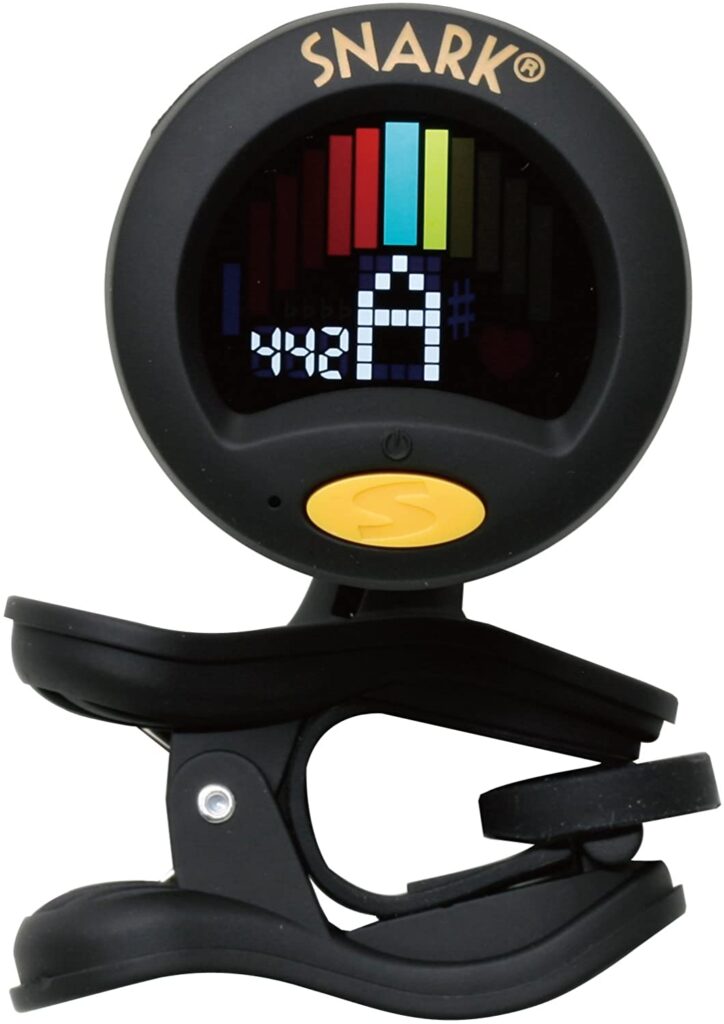 A Guitar Tuner
Guitar tuners are critical for ensuring that your guitar sounds its best. If you're even slightly out of tune, it will throw your entire sound out of whack, making single notes and full chords sound completely off. We would recommend getting an accurate clip-on headstock tuner to start out with, like the Snark SN-8 Super Tight All Instrument Tuner.
Guitar Picks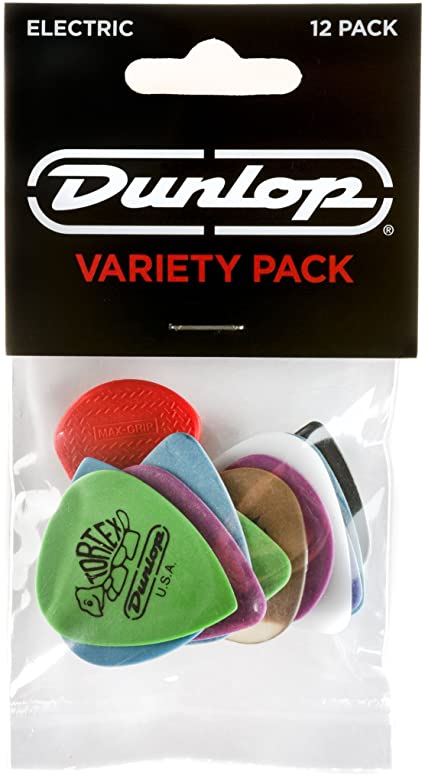 If you're not sure whether you're going to play mostly finger style, we would recommend bringing home a pack of picks. Picks are available in a variety of materials, gauges, and even shapes, so if you don't know what kind of picks you like yet, we suggest getting yourself a variety pack of picks like the ones from Dunlop. Once you find the pick(s) that you like in the variety pack, you can buy a full pack of them! For those who may also be picking up an acoustic guitar, Dunlop also makes an acoustic guitar pick variety pack.
Guitar Cables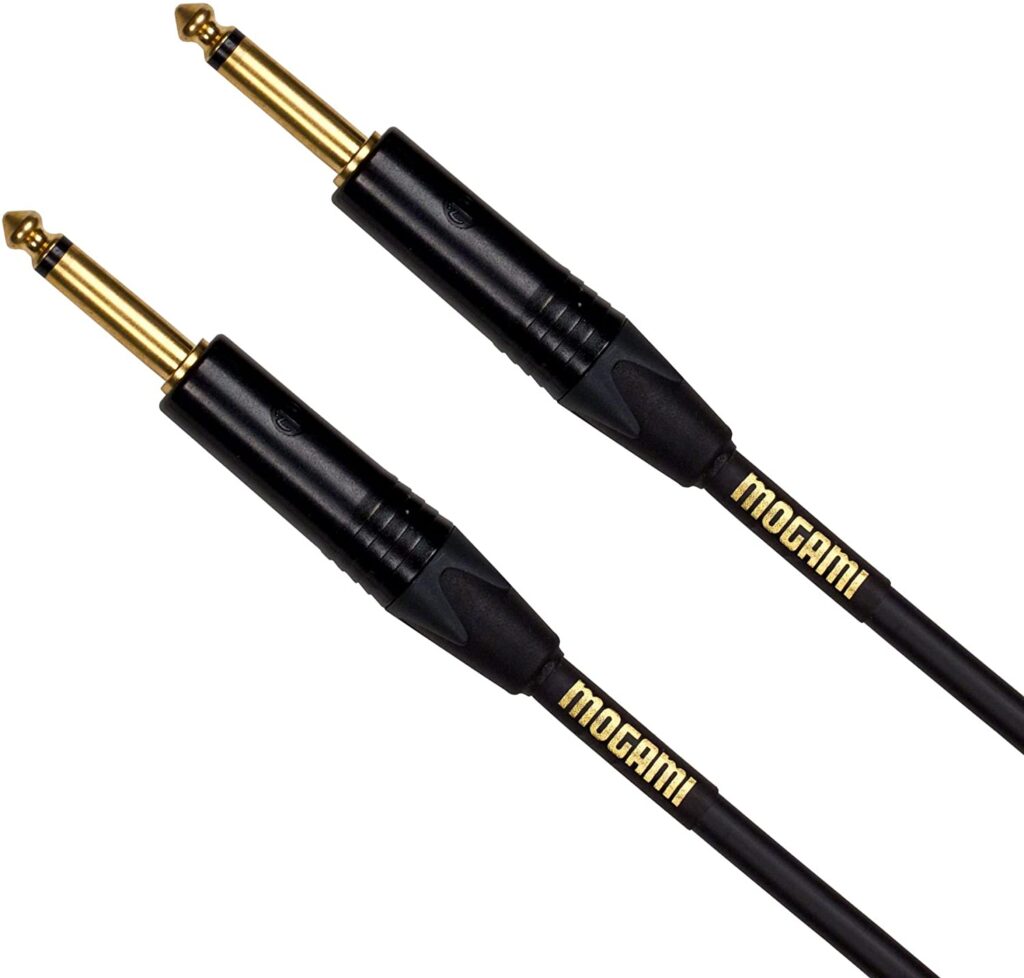 Of course, you can't plug in your guitar without a guitar cable! When it comes to guitar cables, we recommend taking quality into consideration rather than going with the cheapest cable you can find. It's better to spend a little more now so that you can avoid having to constantly buy new cables. Personally, I use Mogami Gold instrument 10 ft and 18 ft cables and I've had them for 2 years with no issues.
Want to know more about the difference between cheap and expensive cables? Check out this article, How much difference does your guitar cable actually make?
Guitar Stands and Guitar Cases
Now that you have a guitar, where are you going to keep it? The last thing you want to do is lean it up against the wall or a piece of furniture and risk the guitar taking a spill. You can buy a simple, inexpensive guitar stand for less than $15 like the Gator Frameworks Adjustable Guitar Stand.
We'd also recommend getting yourself a padded gig bag or hardshell case for your guitar if it didn't come with either of those. Gig bags are definitely easier for transporting the guitar, and many even come with convenient backpack-style straps, but hardshell cases definitely have more protective qualities. You can find high-quality gig bags for under $100, but we recommend ensuring that the gig bag you purchase has sufficient padding for protection. It's also easy to find a hardshell case between $100 and $200. If possible, try to get a form-fitted case that will fit your exact guitar to minimize movement of the guitar within the case. For example, if you purchase a Stratocaster, buy a hard case made specifically for Stratocasters.
A Guitar Strap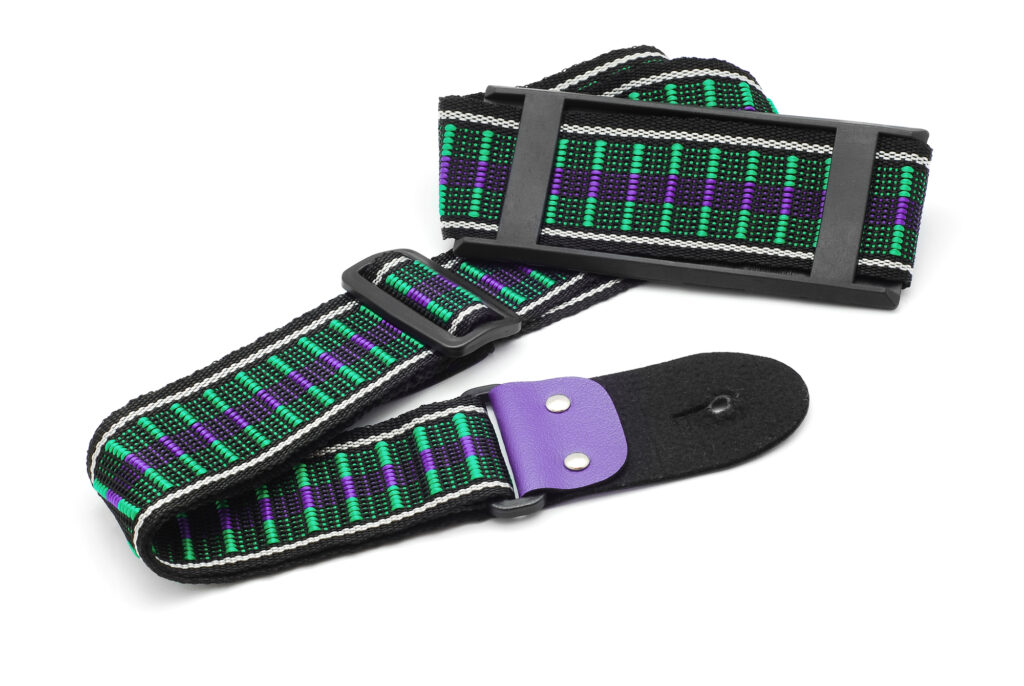 Just like everything else, guitar straps can range from under $10 to $100+. As you're starting out, we would recommend maybe looking into high-quality guitar straps in the $20-$50 range. You don't want something too cheap that it may break, but at the same time, there's no need for a guitar strap that's as expensive as the guitar you just purchased. Not only are straps crucial if you'll be standing up and playing, but they come in countless designs and colors that allow players to express their unique style.
Guitar Chord Chart
Chord charts are perfect for those who are just starting out on their guitar journey, especially if you're planning on teaching yourself. I'm a self-taught guitarist, and I found the Walrus Productions chord chart to be super helpful when I first started out. It's a simple laminated 8-1/2 x 11 sheet that has over 100 different chords on it. There are plenty of chord charts and chord books out there, so browse around and see what would work best for you. 
To tie it all together, purchasing your first guitar is as exciting as it is intimidating, so we hope this guide helps make your guitar buying experience a little easier!