Have you ever struggled for hours (or maybe even days) trying to create that perfect new song or that captivating riff for your band or solo act? If you're a guitar player who writes original music, you know exactly what we're talking about – we've all been there!
There are countless factors involved when it comes to having a productive writing session, and it's different for every single individual. This could include your overall mindset, your particular inspiration at the time, the environment in which you're working, the electric or acoustic guitar you're using, or really, anything else… but what happens when that's just not cutting it?
Guitar pedals, or guitar effects in any form, can really help spark your creativity as a guitarist and get you out of that seemingly endless songwriting slump. With all of the unique sonic qualities, tonal textures, and varying functionalities that guitar pedals elicit, having effects/pedals handy when you're writing songs can help stimulate the "right brain" and get those creative juices flowing.
When it comes to guitar pedals, there are so many out there that it can be seriously overwhelming, so we put together a list of the top 4 essential guitar pedals we feel every songwriting guitarist should have to help them overcome that pesky writer's block.
Looper Pedals
In its simplest form, a looper pedal (also referred to as loop pedals or loop stations) will typically allow you to record your guitar for up to four bars, and then give you the ability overdub layers onto that. Not only does that make this an excellent choice if you're a one-man band, but it's ideal for songwriters looking for some inspiration.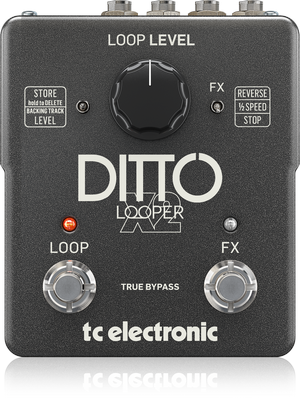 As a songwriter myself, I find that my looper pedal always comes in clutch when I'm writing music. It's my go-to tool as a guitarist for when I'm writing new songs or if I'm trying to come up with some catchy leads or solos to put over an existing rhythm. Once I have that, I even use my looper to test out some possible vocal melodies.
Loopers come in all shapes and sizes with different functionalities. Personally, I'm always a fan of less is more, so I tend to go for simplistic pedals that don't sacrifice sound, functionality, or performance, so I use the Ditto Looper from TC Electronic. This pedal extremely pedalboard-friendly and has just one a single multi-function button that will allow you to record, undo/redo, stop/clear, and features a single loop level knob to control playback volume.
TC Electronic also makes several other incredible loopers in the Ditto family, including a stereo version of the original Ditto looper and loopers with enhanced functionality like the Ditto+ Looper, the Ditto X2 Looper, the Ditto Jam X2 Looper, and the Ditto X4 Looper.
BOSS is also widely known for its RC Series loop stations, and they're also quite simple to use, going from the no-nonsense RC-1 to the legendary RC-3, RC-30, and RC-300 loop stations. They even have two incredibly powerful tabletop loopers in the series with the RC-202 and the RC-505. Some loopers like the BOSS RC-10R even come with top-notch built-in drum rhythms and effects, making it the ultimate partner for songwriters looking for inspiration in a looper.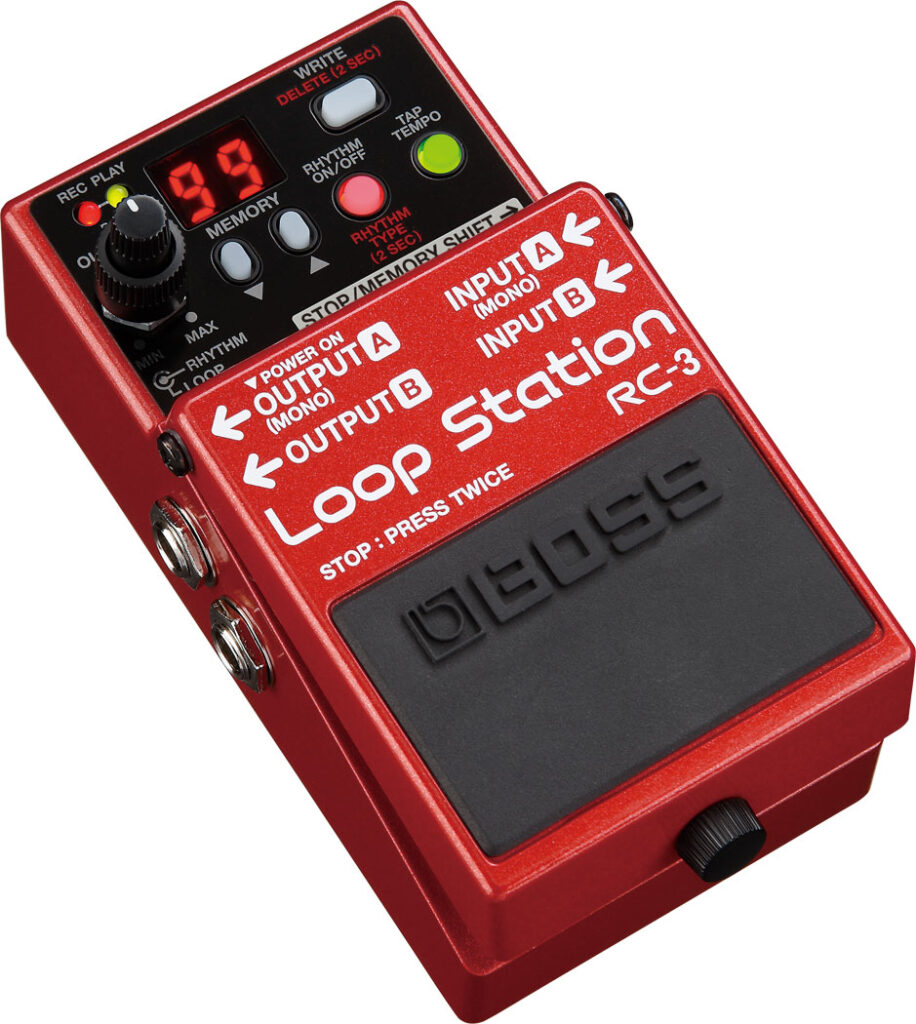 Band Creator Pedals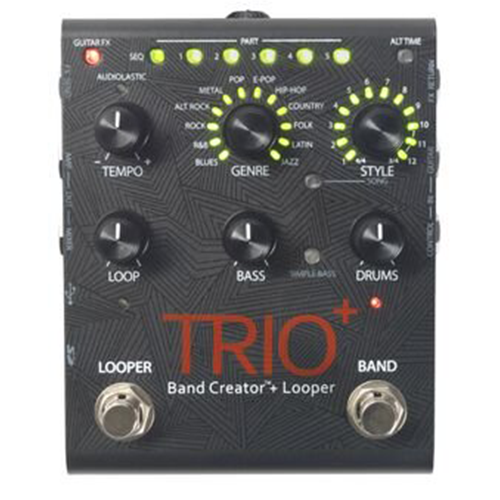 Next up, we have a less common but truly ingenious pedal that is sure to motivate you during your next songwriting session. Essentially an ultra-intuitive band-in-a-box, the DigiTech TRIO+ gives you the ability to select from 12 different musical genres, and it analyzes your playing and generates drums & bass seamlessly to help craft your song. It also features an onboard looper so that you can record and recall your sonic creations. All of these features are just the tip of the iceberg with this pedal. DigiTech also makes the SDRUM Strummable Drum pedal, which gives you the ability to create drum patterns just by strumming your guitar strings, and delivers realistic drum sounds that you can then play over.
When you're a one-person band, or you're the primary songwriter in your band, it can be extremely helpful to hear the guitar parts you've written over essential tracks like drums and bass. These pedals especially come in handy if guitar is your primary instrument and you're not as well-versed in bass, drums, or MIDI instruments into recording software. Even if you're a guitarist who can play drums or bass, these pedals are perfect for when space is limited or if you're looking for instant inspiration.
Modulation Pedals
Modulation pedals are another essential tool for your sonic toolkit. If you're not familiar with what a modulation pedal is, howstuffworks.com describes it as, "disturbing a signal's pitch and/or frequency to create everything from spaceship sounds to classic vibrato." In simpler terms, they change your existing sound to create a wide range of unique tones. Types of modulation pedals include flangers, phasers, delays, choruses, octaves, tremolos, echos, and much more. We could be here for days going on and on about modulation pedals and diving deep into each type, but for the purposes of this post, we're going to keep it very high-level.
Modulation pedals can offer up such unique soundscapes, which will provide you with plenty of sonic inspiration to write your next hit. While pairing up modulation pedals can provide you with an expansive tonal palette, you'd be surprised at how much of a difference even having just one type modulation pedal can make in your creative process.
Multi-Effects Pedals
Last but certainly not least, the last crucial creative tool for songwriting guitarists we're going to talk about is a multi-effects pedal. As you'd expect from its namesake, it's a pedal that comes equipped multiple built-in effects, typically including a variety of distortions, fuzz effects, overdrives, phasers, flangers, chorus, reverbs, echos, delays, and even amp and stompbox simulators, just to name a few. There are so many multi-effects pedal on the market from a wide range manufacturers. Line 6 is widely recognized for its multi-effects processors including their legendary Pod Series and their more recent Helix Series and more pedalboard-friendly HX Series.
The beauty of having multi-effects pedals is that it's a one-stop-shop for any sound you could possibly need. Having this extensive palette of tonal options right at your fingertips does wonders for your creativity when it comes to writing music with your guitar. Check out our article on the 8 best multi-effects pedals for guitarists 2020: top floorboard FX modelers to learn about this year's favorites!